Wed 23.08.
23.08.
Wednesday
Wed 30.08.
30.08.
Wednesday
Wed 04.10.
04.10.
Wednesday
Wed 04.04.
04.04.
Wednesday
Wed 02.05.
02.05.
Wednesday
Wed 06.06.
06.06.
Wednesday
Wed 13.06.
13.06.
Wednesday
Thu 14.06.
14.06.
Thursday
Wed 20.06.
20.06.
Wednesday
Wed 27.06.
27.06.
Wednesday
Children aged 6–14

Schoolchildren

Students
Guests aged 65+

Jobseekers
The discounts apply for tickets from price category 4 to the Wall Sky Lounge.
Ticket fees
A system fee of 2.90 euros is payable per ticket. The prices stated are available on the day of the performance. A fee totalling 15 per cent of the ticket price applies for advance bookings, except for price category 5. Prices are subject to change without notice. A shipping fee of 4.90 euros is payable per order.
Flexible show tickets
When you book tickets in advance, it can sometimes be the case that you are ultimately prevented from using them after all. Our new FlexTicket option offers flexibility and reassurance. For just a nominal 5% surcharge on the ticket price, you are able to change your chosen show time up to three hours before the start of the show or to exchange your tickets for vouchers (unfortunately, refunds are not possible). You do not need to provide justification or proof – no questions will be asked. If you choose to take advantage of this option, a processing fee of 5 euros will apply per ticket (for the issue of new tickets or conversion to vouchers).
You are able to book FlexTickets online or by calling our ticket hotline (+49-30-2326 2327).
We are available to assist with your bookings, any questions you may have about the new FlexTicket option, and ticket exchanges daily from 9 a.m. to 8 p.m. (except 24 December and 1 January) via our telephone hotline (+49-30-2326 2327), email (tickets@palast.berlin) and the LIVE CHAT service on our website.
Please note that it is only possible to rebook tickets for another date in the current booking period – generally 8–12 months in advance. If tickets are booked for a higher price category (e.g. for a show at the weekend, in December or between Christmas and the new year), the price difference must be paid. If tickets are booked for a cheaper show, the price difference will be paid out as a voucher (or upgrade if the price difference is large enough). All vouchers are valid for 12 months from the date of issue and can be used to purchase tickets for one of our Grand Shows. After this time, the voucher will expire. Refunds are unfortunately not possible.
VIP category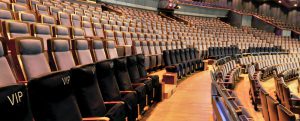 Treat yourself to something special! Enjoy the show from the best seats in the house – with lots of legroom and the best view in rows 3 and 10. Indulge in a welcome drink in the exclusive VIP area where you are also able to reserve a table for the interval. Each VIP booking includes one programme and free use of the cloakroom. Enjoy all-round views from the VIP seats in row 10: 360° panoramas