Voorstellingsrooster & Tickets
ma 24.07.
ma 31.07.
24.07.
maandag
31.07.
maandag
wo 04.10.
04.10.
woensdag
wo 04.04.
04.04.
woensdag
wo 02.05.
02.05.
woensdag
wo 06.06.
06.06.
woensdag
wo 13.06.
13.06.
woensdag
do 14.06.
14.06.
donderdag
wo 20.06.
20.06.
woensdag
wo 27.06.
27.06.
woensdag
Kinderen van 6-14 jaar

Scholieren

Studenten
Bezoekers vanaf 65 jaar

Vacatures
Kortingen gelden voor de prijscategorieën Wall Sky Lounge tot 4.
Ticketkosten
Alle prijzen exclusief 2,90 Euro administratiekosten. De genoemde prijzen gelden op de dag van de voorstelling, in de voorverkoop geldt een voorverkoopstoeslag van 15 procent, behalve in prijscategorie 5. Wijzigingen voorbehouden. Verzendkosten 4,90 Euro.
Tickets die u kunt overboeken
Als u tickets vooruit boekt, kan er altijd iets tussenkomen. Met de FlexTicket bieden we u flexibiliteit en zekerheid. Voor een toeslag van slechts 5% op de ticketprijs kunt u zo nodig uw tickets tot uiterlijk 3 uur voor de voorstelling naar een ander voorstelling overboeken of omruilen voor een tegoedbon. (Het is niet mogelijk om het bedrag uit te betalen.) U hoeft niets uit te leggen of aan te tonen: we stellen geen vragen. Als u er gebruik van maakt (nieuwe uitgifte van de tickets, of omzetten in een tegoedbon) is per ticket 5 euro administratiekosten verschuldigd.
U boekt uw FlexTickets online of via de medewerkers van onze Ticket Hotline (+49-30-2326 2327)
Voor uw boekingen, al uw vragen over het FlexTicket of als u wilt omboeken, kunt u elke dag (behalve 24 december en 1 januari) van 09:00 tot 20:00 uur bij ons terecht. Dit kan telefonisch (+49-30-2326 2327), via e-mail, tickets@palast.berlin, of via LIVE CHAT.
De omboeking naar een ander tijdstip kan alleen plaatsvinden voor dan geopende boekingsperiode, dat wil zeggen gewoonlijk 8-12 maanden vooruit. Bij omboekingen op voorstellingen met hogere ticketprijzen (bijvoorbeeld in het weekend, in december en met name tussen kerst en nieuwjaar) moet u het prijsverschil bijbetalen. Bij een omboeking naar een gunstiger tijdstip ontvangt u het prijsverschil als tegoedbon of – indien het prijsverschil daar genoeg voor is – als upgrade. Tegoedbonnen kunt u 12 maanden na uitgifte inwisselen voor een van onze Grand Shows. Daarna vervalt het gehele bedrag. Een uitbetaling is echter niet mogelijk.
VIP-categorie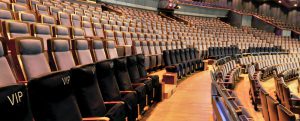 Geniet van de show vanaf de beste plaatsen die het theater te bieden heeft – met veel beenruimte op de met "VIP" gekenmerkte plaatsen in de rijen rijen 3 en 10. Welkomstdrankje in de eigen bar voor VIPS met mogelijkheid te reserveren voor de bar. Garderobe en een programmaboekje per boeking inbegrepen. Het zicht vanaf VIP-rij 10: (360 graden panorama)