The most popular sights in Berlin: don't miss these highlights
Berlin is booming: almost 30 million overnight stays are recorded for the city every year – and this is a growing trend. While the typical Berlin tourist is from Italy, Holland or the USA, Berlin is also a popular destination among Germans for city breaks. This is perhaps unsurprising, for the metropolis on the Spree has countless attractions to offer in addition to the standard Berlin sights.

Young people are primarily drawn to the city for its casual flair and almost legendary club culture: the nightlife in Friedrichshain attracts the masses, as do the hip cafés in Prenzlauer Berg, the green spaces in Mauerpark and the trendy stores in Berlin-Mitte. Due to its eventful past, Berlin is also an attractive travel destination for those interested in politics and history. And an absolute eldorado for theatre and art enthusiasts. Whether cabaret, a contemporary exhibition or a major show, the diverse cultural life in Berlin means that everyone will find something to suit their tastes.
The Friedrichstadt-Palast – a must-see in Berlin
A visit to the Friedrichstadt-Palast definitely should not be missing from the itinerary of all fans of the performing arts. The theatre building, which already looks impressive from the outside, was opened in Berlin-Mitte in 1984 as the final large-scale construction project of the GDR. Today, it is one of the most visited theatres in Berlin, attracting more than 700,000 visitors every year. With 2,900 m² of playable space, it is in fact the biggest theatre stage in the world. This huge space is filled with life during the breathtaking Grand Shows involving more than 100 artists.

The new show at the Palast is starting at 27 September. VIVID is a declaration of love to life. Featuring more than 100 stunning artists on the world's biggest theater stage. A production budget of 12 million euros for spectacular costumes and stage sets of unparalleled dimensions. A kaleidoscope of physical perfection and outstanding artistic performances that may prompt tears of joy. Despite all the glamour, ticket prices start at just €19.80!
Brandenburg Gate and the Holocaust Memorial
No trip to Berlin is complete without a visit to the Brandenburg Gate! What was once a memorial to Germany's division has since become a symbol of German unity. The Holocaust Memorial, an undulating space featuring 2,711 stelae, is located just nearby. Underneath the memorial is the Place of Information that documents the persecution and extermination of the European Jews.
Experience history first-hand at Checkpoint Charlie
It was once one of the most notorious border crossings between the East and West: from 1961 to 1990, Checkpoint Charlie linked the West Berlin district of Kreuzberg with the East Berlin district of Mitte. It was used by diplomats and military personnel as a checkpoint. On 27 October 1961, so just two months before construction of the Berlin Wall began, Checkpoint Charlie was the scene of a standoff between American and Soviet tanks. This followed weeks of provocation during which both sides flexed their military muscles. Only a telephone conversation between Kremlin boss Khrushchev and US President Kennedy succeeded in defusing the tense situation and led to withdrawal of the troops.

Today Checkpoint Charlie is one of the most popular sights in Berlin. A memorial plaque and art installation can be found at the former border crossing, and tourists are able to have their photograph taken with a soldier dressed in a replica Allied forces uniform.
Track down a Berlin original in the Currywurst Museum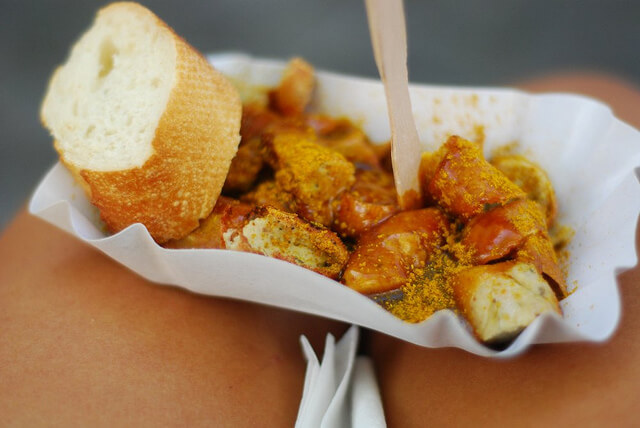 Currywurst is to Berlin natives as fish and chips is to the British. Word has it that this dish consisting of a pan-fried (or deep-fried) sausage in a spicy sauce was invented in the German capital – in a snack bar in Charlottenburg to be precise – shortly after the end of the Second World War. In Berlin, currywurst are traditionally offered with or without a skin and are available on almost every street corner.

Just 100 metres from Checkpoint Charlie, it is not only possible to sample currywurst but also to learn everything there is to know about these spicy sausages. Due to its interactive nature, the German Currywurst Museum is one Berlin attraction that will interest both adults and children alike. A currywurst sample is included in the admission price.
The Reichstag
It is possible to literally look down on politicians from above here! Visitors to the Reichstag can also enjoy wonderful all-round views over the goings-on in the city from the roof terrace and glazed dome. The Federal Chancellery (Bundeskanzleramt) is located in the near vicinity. Those not wishing to queue to get in are able to register in advance via the Bundestag website.
Above and beyond: Berlin sights open up entirely new perspectives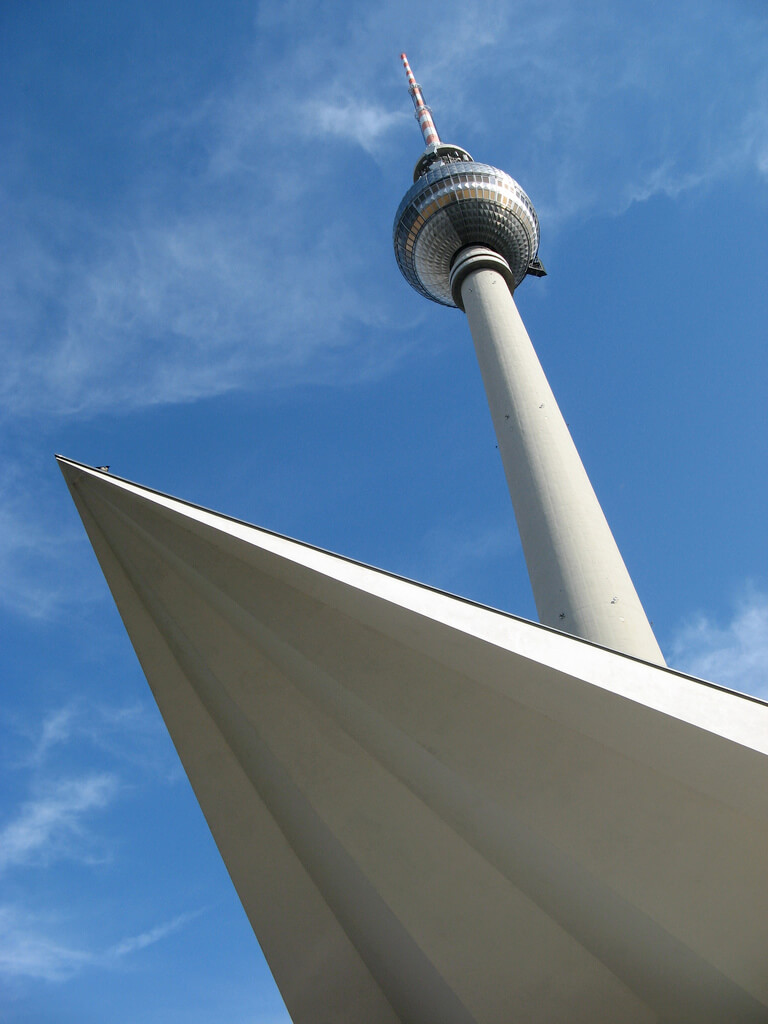 Want to experience the German capital from unusual perspectives? It may actually be easier than expected – and thoroughly exciting – to delve into Berlin's underworlds. Themed tours on subjects such as the Second World War or tunnels under the Berlin Wall lead interested visitors through air raid shelters or escape tunnels dug during the times of divided Germany. In the former bunker at Gesundbrunnen underground station, there is also a museum informing of Berlin's underground buildings on four floors.

It is just a few stops from here to the TV tower at Alexanderplatz, which is one of Berlin's best-known sights. It is possible to ascend to loft heights here in just 40 seconds: the tower jokingly referred to by Berlin natives as the "Telespargel" ("TV asparagus") is 368 metres high, which makes it the highest building in Germany. It features a panoramic bar as well as a revolving restaurant that turns on its axis twice an hour at a height of 207 metres, guaranteeing every guest 360° views over the whole of Berlin. With a little luck (and in favourable weather conditions), it is possible to see up to 80 kilometres.
Credits:
Alexanderplatz in Berlin | Foto: Flickr / hillman54 (CC BY 2.0)
The Holocaust Memorial | Photo: Flickr / Wendelin Jacober (CC BY 2.0)
Checkpoint Charlie | Photo: Flickr / Mike Steele (CC BY 2.0)
Delicious currywurst | Photo: Flickr / punctuated (CC BY 2.0)
The dome of the German Reichstag | Photo: Flickr / Thomas Quine (CC BY 2.0)
Looking up at the TV tower | Photo: Flickr / Olivier Bruchez (CC BY-SA 2.0)