The safety and well-being of guests and employees is a top priority for the Friedrichstadt-Palast. In the following, we inform of a number of safety precautions taken at our theatre. They are regularly adjusted in coordination with the prevention officer at the responsible police department and the safety technician.
How is the main entrance protected?
Fixed bollards prevent vehicle access to the main Palast entrance. The steps leading up to the main entrance provide further protection against uncontrolled access.
How is the Palast secured?
The back/stage entrance is secured with a security gate and manned by security staff 24/7 all year round. The names of all visitors backstage are recorded and they are issued with a personalised guest pass featuring their photo and a validity period. All side entrances to the building are kept locked and only opened for deliveries in the presence of authorised Palast staff. All four sides of the theatre (and particularly the entrances) are under video surveillance (CCTV). The side doors are equipped with alarm systems to protect against unauthorised use and selected outer doors are also connected to the intruder alarm system.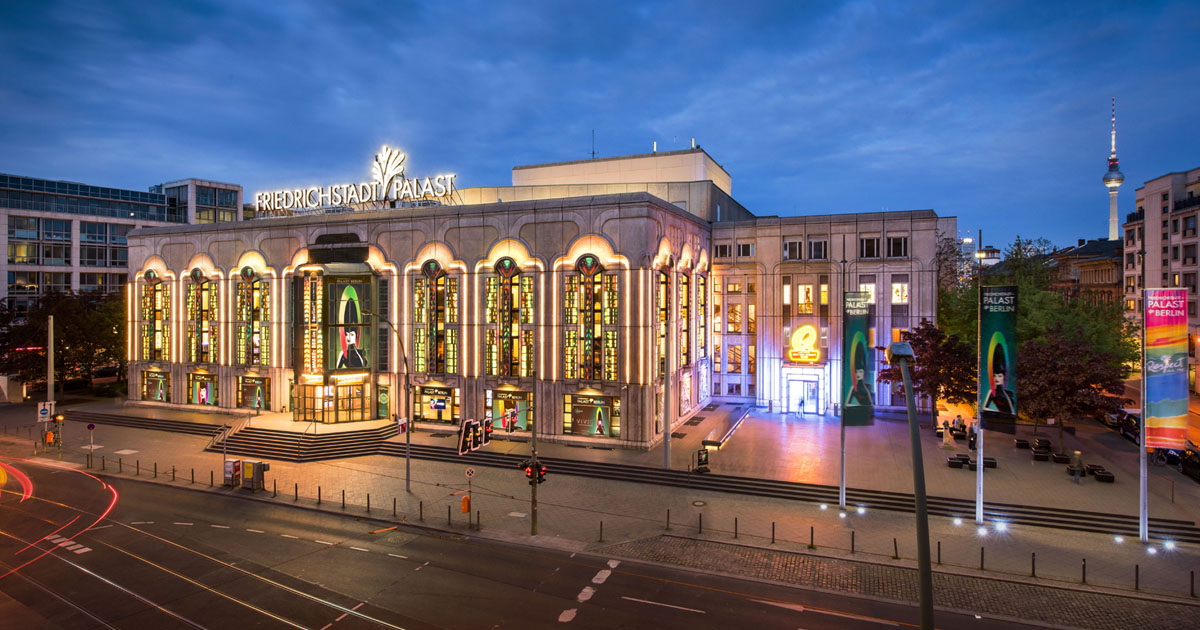 Which safety precautions have been reached in the foyer and theatre hall?
A qualified doorman at the main entrance is the first port of call in case of questions or to report any suspicious activity. From the raised position on the upper steps, he has a complete overview of the theatre forecourt. A direct link exists to the respective emergency contacts and security authorities via mobile phone.
Without a valid ticket, it is not possible to enter the foyer (and therefore also the theatre hall), as all entrances are manned and controlled by service staff (including during the performance and the interval).
There are two security gates at the main entrance. All guests must pass through these – and re-enter through them again if they leave the building to smoke during the interval. These state-of-the-art security detectors can also safely be used by people with a pacemaker. If you have a pacemaker and are unsure about passing through our security detector, please show your pass and you will be admitted without having to pass through it. The security staff also have handheld devices to check bags and other places indicated by the security detector.
Cloakroom items and/or luggage may not be taken into the theatre hall. Please therefore give coats and jackets as well as backpacks, suitcases and any bags larger than 45*40*20 cm in size in at the cloakroom (Grand Show fee: €1.50/item; kids' show fee: €0.70/item). The Palast reserves the right to have the backpacks and bags of individual or all guests checked by trained service staff in guests' presence.
Three safety officers trained in fire safety are present in the theatre hall during every performance.
Who can help me if I have questions while at the theatre?
Please do not hesitate to approach our multilingual service staff at any time in case of questions or suggestions.
What should I do if I notice something suspicious?
Remaining alert is the best prevention. Should you notice anything suspicious, please do not hesitate to dial 110 for the emergency services. This is the best number to call. Based on the concrete information you provide, the operator will know what to do. Please then also inform our service staff, as necessary.
Please do not put yourself in any danger! Take any necessary photos/videos with your mobile phone from a safe distance. These may help with status reports and any subsequent investigations.
Contact:
Please do not hesitate to contact us in case of questions and/or suggestions. We can be reached via email feedback@palast.berlin or our hotline +49-30-2326 2327; daily 9 a.m.–8 p.m.

Photos: Nady El-Tounsy